Pakistan Education Foundation
Projects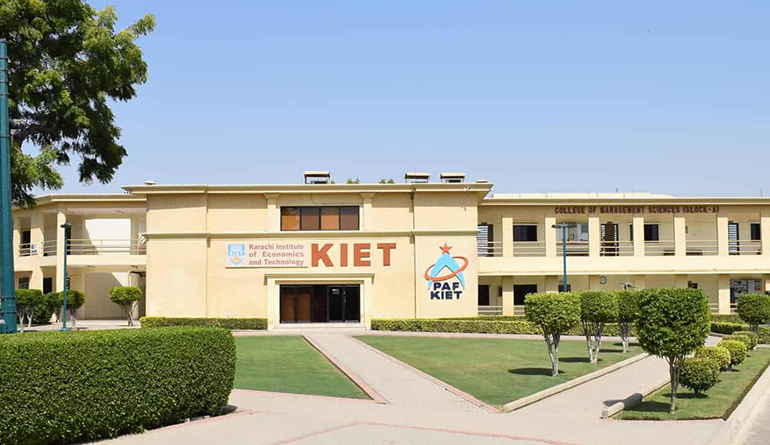 Karachi Institute of Economics and Technology
(PAF-KIET)
KIET is a Major Project of Pakistan Education Foundation, under the supervision of PEF, KIET have achieved many milestones. KIET is a reputable Institute Officially recognized by the Higher Education Commission of Pakistan. PAF Karachi Institute of Economics and Technology (KIET) was established in 1997. KIET received recognition by the Higher Education Commission (formerly named UGC) vide letter no dated 1 August 1998.
Other Specialized or Programmatic Accreditations
Government of Sindh
Pakistan Engineering Council (PEC)
National Business Education Accreditation Council (NBEAC)
National Computing Education Accreditation Council (NCEAC)
National Technology Council (NTC)
Colleges at KIET
Karachi Institute of Economics and Technology (PAF-KIET) offers courses and programs leading to officially recognized higher education degrees in several areas of study.
College of Engineering – COE
College of Computing and Information Sciences – CoCIS
College of Management Sciences – CoMS
College of Media Arts – CMA
Research at KIET
PAF KIET with a mission to transform itself into a comprehensive research-led university, has maintained a focus on technology, innovation, and entrepreneurship.
160 Research funds (in million PKR) received.
25+ PhD faculty members at KIET.
8 International conferences hosted.
84 Funded FYP Projects.
Overview
Alumni: 7922
Current Students: 5279
Current Staff: 525
Current Faculty: 386
Taleem Gah is another project of PEF, with a mission to increase the level of primary education. Imparting quality education and providing equal opportunities to the less privileged children. Taleem Gah envisions to create education a nurturing, confidence building and inspirational experience in the lives of the less privileged children by creating an atmosphere where children are free to indulge in their curiosities all the while expanding their knowledge base. We believe that every child has the potential to be the next Ibn e Sina if guided in the right-direction.